The Public Information/Professional Outreach (PI/PO) Committee of Region 6 (R6) of Overeaters Anonymous is appointed annually by the Board.
The Purposes of the Committee are:
to educate the public about Overeaters Anonymous (OA),

to share information about OA with clergy, community organizations, healthcare professionals, institutions, and people having compulsive food behavior,

to support PI/PO information and resource sharing and collection at the Group (meeting), Intergroup, Service Board, and Region levels,

to act as a liaison with Groups, Intergroups, Service Boards, Regions, and World Service,

to assist in forming and supporting related Committees at the Group, Intergroup, or Service Board level,

to support the creation and implementation of Region-wide PI/PO activities, campaigns, and events, and

to administer the Blitz Funding program which provides a financial incentive for Intergroups and Service Boards to create, implement, and measure the results of activities, campaigns, and events designed to enhance or increase public information about or direct professional outreach toward Overeaters Anonymous.
Examples of PI/PO Committee activities include:
biannual outreach campaigns to all Intergroups and Service Boards to inform them about the Blitz Funding process and offer application assistance,

development of a library of successful Blitz Funding applications to aid Intergroups and Service Boards in applying for funds,

enabling a 20% increase in Blitz Funds available to Intergroups in FY 2023,

proposing to the R6 Board edits to the Blitz Funding application form to simplify and clarify the application, and

since 2018 in 8 application cycles, spring and fall, recommended funding to 12 Intergroups with an aggregate total of $32,243 in individual awards ranging from $500 to $5,000.
PI Blitz Forms:
PIPO data Sheet: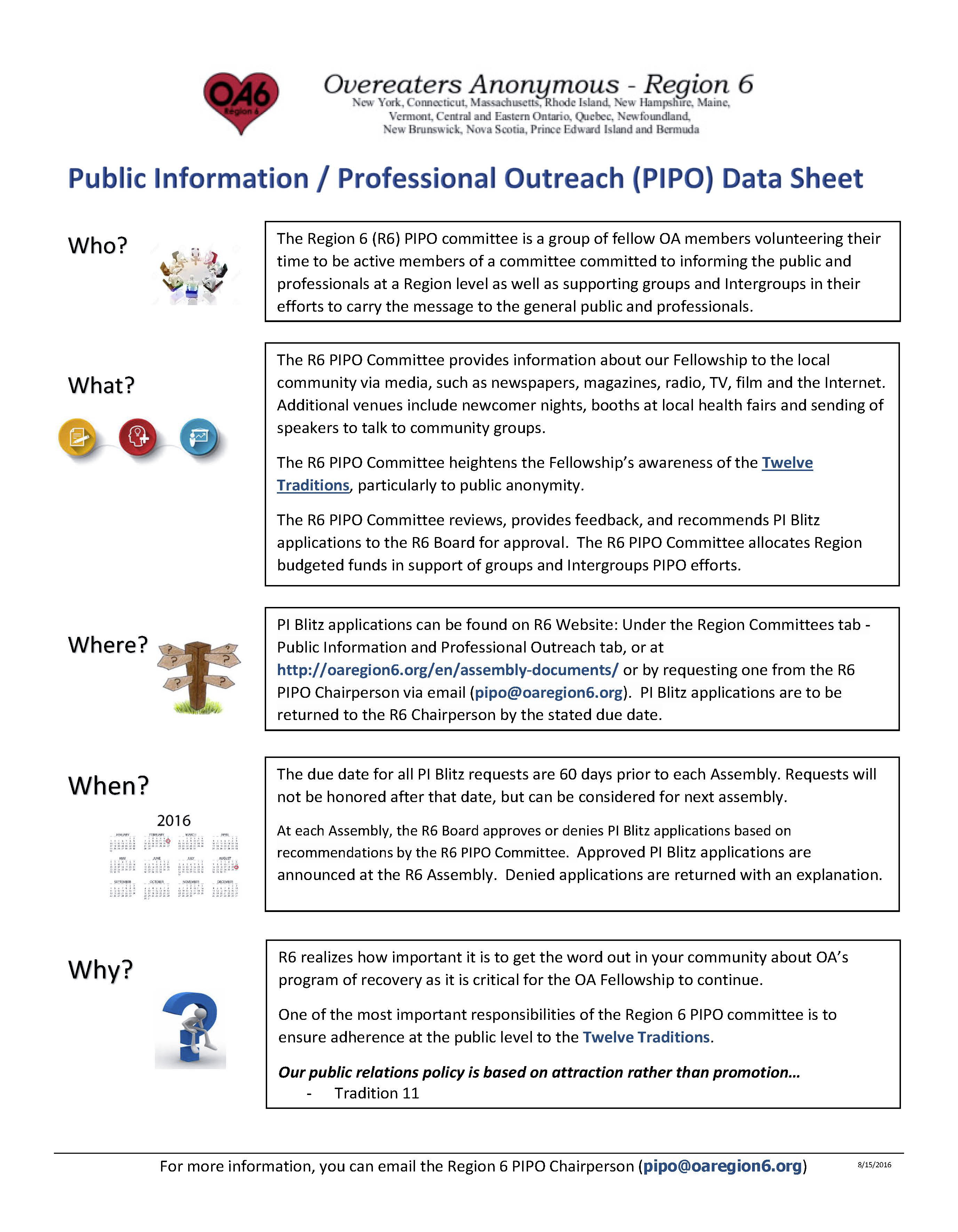 Click the image to view and print a PDF version of this information